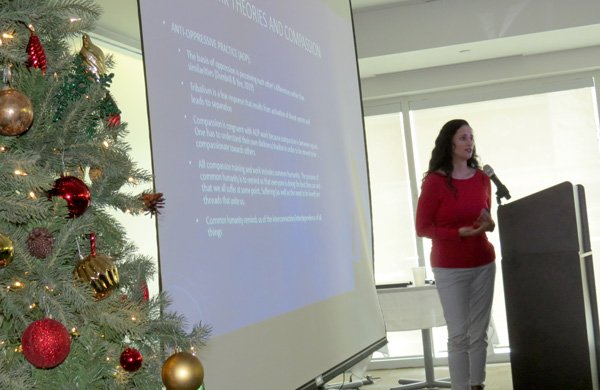 A one day Introduction to Compassion in the Workplace
In depth workshops for all staff with a focus on implementing compassion in the workplace
Customized support including assessment of policies and procedures and organizational culture. 
We aim to customize our services to meet your organizational needs! Contact us for more information
Benefits of Compassion in Organizations
Historically, we have not created organizations that value loving people.  In fact, emotions are often not welcome in the workplace.   Often, workplaces have placed more value on the cognitive side of work but has not placed any emphasis on the emotional side of the work.  The expectation of many organizations is that workers exercise professionalism and emotional distance with clients and colleagues.  However, as stated by Gustavo Razzetti (2019)
                                                                          "Like it or not, no one is leaving their emotions home"
According to research on organizational compassion, neglecting the emotions of employees can have detrimental effects on workplace culture, employee retention and burnout.   Creating loving and compassionate environments on the other hand, has a huge positive effect on productivity, customer and worker retention. There are many organizations currently who are using compassion to improve organizational outcomes.
We will be offering retreats for organizations on a periodic basis.  Retreats will be held in beautiful locations which will focus on meeting staff's emotional, cognitive, spiritual and physical needs!  For more information on upcoming retreats please contact us!
During the COVID-19 epidemic notice:
For the safety and wellness of everyone involved. We are not booking retreats until further notice.
maitricentre.